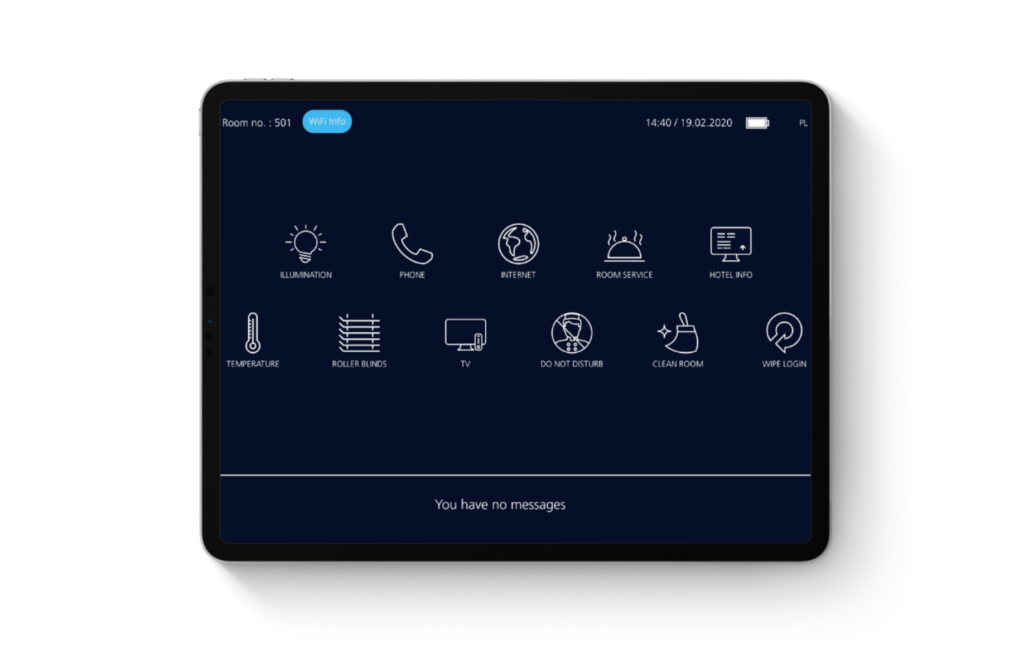 iLumio tablet, a multimedia digital entertainment, and service system, is the most advanced product on the market in the area of digital guest service accessible from hotel TVs. It is complemented by a dedicated application on the tablet available in the guest's room. All of this allows for efficient management of room automation and communication with staff during the stay.
The innovative and practical features within the iLumio system were developed thanks to the experience gained during years of work implementing IPTV solutions. These give the hotel certainty that are able to meet the changing and growing demands of the client. New ideas continuously contribute to the development of the system's functionality.
More about digital room tablet
What makes this solution special?
Branding
Interface branded with hotel brand.
Integration with PMS systems
Full integration with: Micros Fidelio and Opera, LSI, MC Comp, Sihot and others. It allows, among others, the displaying of a personalized welcome screen.
Dedicated hotel application
The application is integrated with the hotel BMS system. This allows the managing of the room automation, e.g. lighting, temperature, blinds, etc.
Application for hotel management
Monitoring guest activity, accepting and confirming orders, and sending messages.
The tablet serves as a remote control for the hotel TV. The visitor can manage the activities on the screen. The product allows for changing the channel, adjusting the volume, or checking the program.
The check-out function on the tablet is simple. The guest needs to select the appropriate button on the screen with the phrase "check out". The system will then inform the guest about the check-out details, and ask for confirmation with the button. That is all!
Room automation control stands for control over the electronics contained in the hotel room. The tablet allows guests to control lighting, as well as manage blinds and temperature.