Kubic Hotel Athens is one of the most modern,
elegant and smart hotel centrally located in city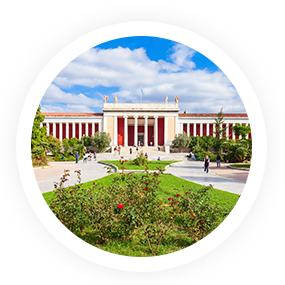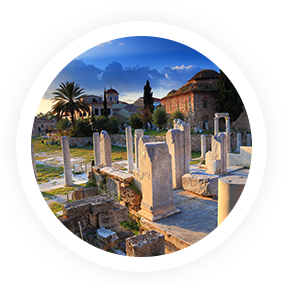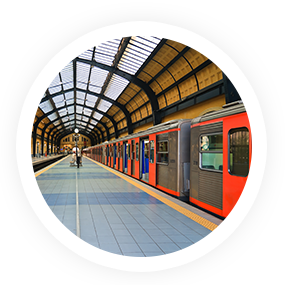 Project scope
and business goals
The idea of Kubic Hotel was to create the first smart hotel in Greece. The aim was to deliver a unique experience for guests and literally let them to "touch" the technology.
Hotel owners wanted to open a self-service hotel with a minimum number of staff members and with simplified processes to allow for self-check-in or check-out.
The project scope and timeline were very ambitious. It assumed implementation of 4 different iLumio: iLumio TV, iLumio Valet, iLumio Mobile Concierge and iLumio Digital Signage. All products are based on the same back office platform called iLumio CMS and integrated with 3 internal hotel systems: Opera PMS, Assa Abloy locks, KNX BMS. Complete solution was delivered in 4 months.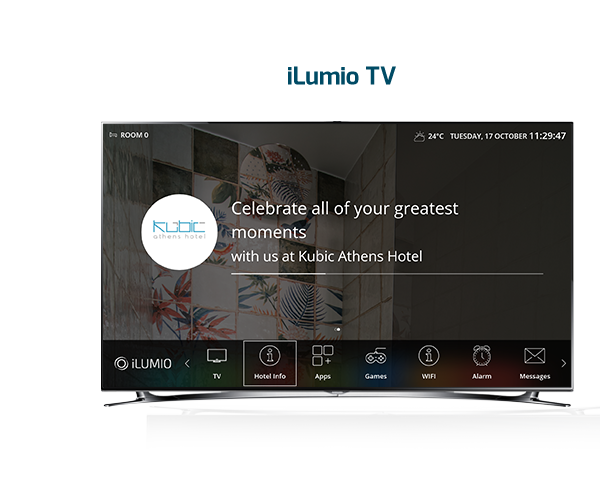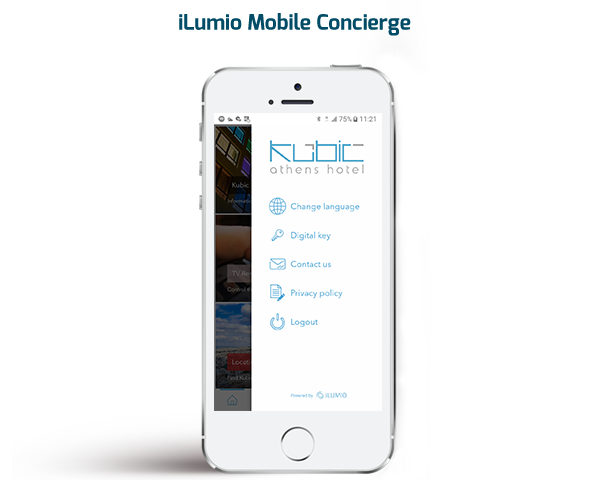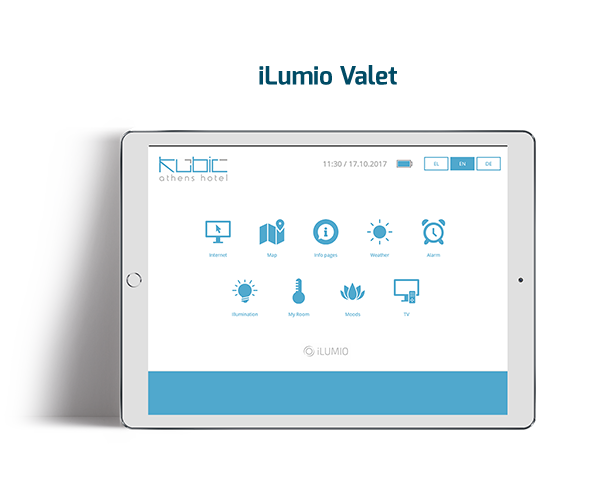 What functionalities are available for:
iLumio Tv
(TV Channels, about the hotel, local weather, wake-up alarm, WiFi Access Point)
iLumio Tv
iLumio Tv
iLumio Valet
(standalone application for Android)
Kubic Mobile Concierge
Mobile key (integration with Assa Abloy)
Kubic Mobile Concierge
Hotel events in the calendar
Kubic Mobile Concierge
Kubic Mobile Concierge
Services (wake-up, technical issues, order taxi etc.)
Kubic Mobile Concierge
Social functions (recommend a friend)
iLumio DS
Managing schedules for each screen
iLumio DS
Managing presentations with slides
Weather slide
Flights slide
Configure 100% of content and scope of all iLumio platforms in one iLumio CMS
Plan, manage and execute marketing campaigns
(common for iLumio TV and Kubic Mobile Concierge)
Manage list of channels in iLumio TV
Manage and schedule presentations on Digital Signage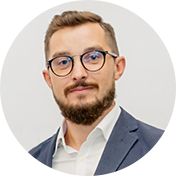 It was one of the most complex implementations of iLumio products in one Hotel. The implementation went well thanks to significant efforts of iLumio certified Partner Euro-Axes.
The project timeline was very tight and the scope included delivery of iLumio TV, iLumio Valet to each room and iLumio Mobile Concierge app for guest devices.
Project scheduled assumed only 2 months to adapt iLumio Valet to the client's needs, develop it and implement it on tablets located in 56 rooms. Implementation of iLumio TV and iLumio Digital Signage was also very quick and has been completed before Hotel's opening. The lastest part of the project was customisation of iLumio Mobile Concierge to Kubic's functional specification. It required two integrations: with Oracle Opera PMS and with Assa Abloy door locks. Thanks to this implementation every Guest can touch the newest trends in Hospitality – open door with a mobile phone, control room from the tablet or chat with the reception.
Mateusz Kuś
Project Manager iLumio, Ailleron SA
Smart Hotel Kubic Athens
case study
Have a look at some benefits brought by iLumio technology:
Cost reduction and increased revenue
Promote services and upsell
Improve guest experience
Get ready for the future
Download Smart Hotel Kubic Athens case study
Book your stay
at the Kubic Hotel Athens
Spend your holiday in Greece – a perfect holiday destination.
Delicious greek food and wine
Attractions for the whole family
Stunning places with a spectacular view
The best memories
BOOK NOW