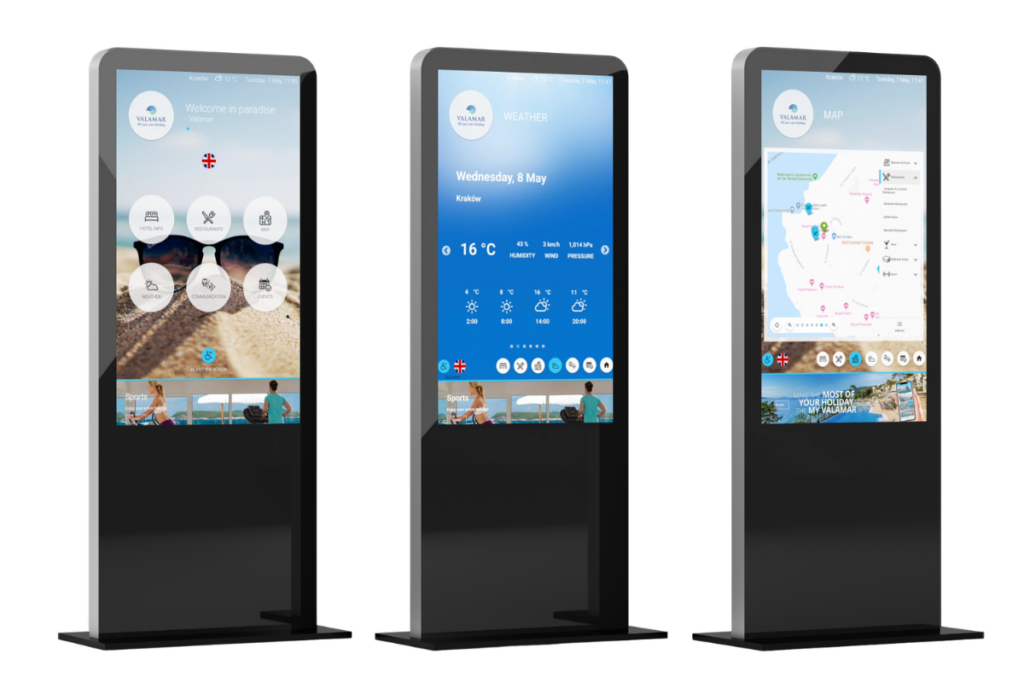 Digital info kiosk powered by iLumio is an innovative, multimedia communication channel whose main goal is to pass customized content in an attractive way. The touchscreen enables direct interaction between the user and the presented content.
Info kiosks are a perfect fit for all present-day public spaces, such as stadiums, sports halls, customer service offices, cinemas, theatres, retail chains, hospitals, and conference centers.
The digital kiosk is an innovative communication channel whose main objective is to provide personalized content in an attractive form. Thanks to the interactive screen, direct interaction with transmitted content is possible. Guests get info about flight schedules, weather forecasts, events, hotel news, and FAQs. Additionally, the hotel can display an advertising banner, promotional offers, and social media feed on the kiosk screen.
More about digital info kiosk
Effective marketing with info kiosk
Source of extra income
Displaying dedicated content, i.e. advertisements allow for making extra income.
Content management
Intuitive operation and full control over presented information.
Competitiveness
Attractive offers, unique way of presenting messages, advertising space for external advertisers.
Content changes are simple and fast. All you have to do is change the content in the CMS system and watch it automatically update on every chosen device. You can forget about plucking in the Pendrive to upload changes – you can do it all remotely with iLumio.
Digital info kiosks can be placed both: inside and outside the hotel. Inside devices keep your guest up-to-date, and outside ones can attract new visitors/clients. In addition, kiosks are not exclusive to hotels – those products will fit perfectly at stadiums, sports halls, customer service offices, cinemas, hospitals, and conference centers.